Integral Pup Joint could be used in high pressure discharge line, input line, temporary flow line, well testing and other transmission lines.
It can meet the demand of CO2, H2S and other sour gas operating environment.
Common material of Integral Flow Line Pipe is alloy steel, ANSI 4135, 4130, 35CrMo.
We can provide standard length and custom length according to your working condition.
Description
Integral Pup Joint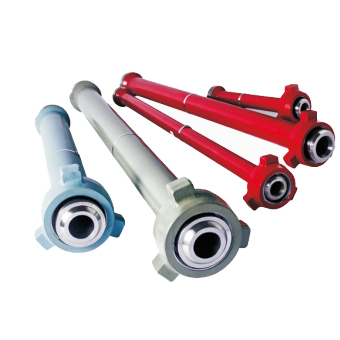 Integral Pup Joints are high pressure fluid control situation. They are widely used in the acidic operating environment in high-pressure pipelines. Integral Pup Joints are made from high strength steel, with a special toughening process. It uses Acme threaded connection, making the demolition convenient, fast and reliable. Multiple seal designs and high precision are to ensure the sealing performance of the product.
Rated Working Pressure: 69 ~ 138 MPa (10000 ~ 20000 psi)
Nominal Size: 1 ~ 4 in
Service: Standard, Sour Gas
Application: Fracturing, Cementing, Acidizing, Testing Lines
Drawing
Please send us your inquiry with detail item description or with Model number. If there is no packing demand we take it as our regular exported standard packing. We will offer you an order form for filling. We will recommend you the most suitable model according to information you offered.